Management & Board
Management

Karsten Fjärstedt, CEO
Karsten has over 20 years of experience in the biotech industry. He joined Denator from GE Healthcare Life Sciences where he has held senior executive management positions in business and marketing over the past 10 years. Karsten started out his career with Pharmacia and Amersham Biosciences before it became a part of GE. He holds a M.Sc. in Chemical Engineering from the Royal Institute of Technology (KTH) in Stockholm.

Board of directors

Patrik Dahlén, Chairman
Patrik has spent the past 30 years of his career in life science and diagnostics. For 16 years he worked with PerkinElmer in various positions such as R&D, marketing, and business management. In the last 15 years Patrik has worked as the CEO for various companies including Dako, NeuroSearch, BioImage, and Immunodiagnostics Plc. Patrik has a broad experience as a board member, and has served as the Chairman of the Board in several companies like Olink Biosystems, Proxeon, and Sophion.

Henrik Wingstrand
Henrik is CEO of the venture capital company T-bolaget AB.

Søren Møller
Søren has worked in biotech for 15 years in various managerial positions at Novozymes, BioImage and Exiqon. At Exiqon Søren was CSO and Vice President of R&D and responsible for development of microRNA based products for life science research and diagnostics. Today Søren is Managing Investment Director at Novo Seeds, and board member of Danish Biotech (the Association of Biotechnology Industries in Denmark).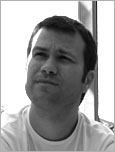 Karl Sköld
Karl is one of the founders of Denator. He encountered the problems with degradation during his research at Uppsala University. This research was the starting point of the company.