News
CDC invest in Denator´s unique heat stabilization technology
Uppsala, Sweden, June 28, 2016 – Denator, the Swedish-based biotechnology company specialized in biological sample preparation technologies announced today that the Center for Disease Control and Prevention (CDC), Atlanta, had made a major purchase of its proprietary heat stabilization technology Stabilizor™ T1. The Stabilizor system has been shown to inactivate pathogens in biological samples, including virus and bacteria, and is used by CDC to obtain high quality samples for advanced downstream analysis such as gene sequencing and mass spectrometry. Read more
Denator forms a new Scientific Advisory Board
UPPSALA, Sweden, November 3, 2015:
Denator AB announce today that a new external expert advisory board has been formed. Karsten Fjärstedt, recently appointed as CEO comments, "It is a great honor for me to be entrusted to lead Denator forward in this new phase of development. With a pipeline of new exciting business opportunities and a strong Scientific Advisory Board (SAB) I am looking forward to realizing the full potential of the company technology". Read more
USAMRIID reports that heat stabilization inactivates viral and bacterial pathogens as well as preserving tissue biomarkers
UPPSALA, Sweden, June 2, 2015:
Denator AB announced today that in a new publication in the journal BMC Microbiology, scientists at the U.S. Army Medical Research Institute of Infectious Diseases (USAMRIID) have showed that the company's proprietary heat stabilization technology can be used to inactivate both viral and bacterial pathogens as well as preserving sensitive biological molecules such as biomarkers. Read more


Denator enters into collaboration with newly established state-of-the-art European institute for clinical applications
Gothenburg, Sweden, 24 March 2015:
Denator AB announced today that the company has entered into a 2-year collaboration with the Maastricht MultiModal Molecular Imaging Institute (M4I) of Maastricht University, the Netherlands. As part of the collaboration, Denator will work closely with the M4I Division of Imaging Mass Spectrometry, headed by university professor Ron Heeren, to jointly develop and evaluate innovative sample stabilization approaches for clinical applications. Read more
Denator demonstrates reliable preservation of lipids revealing true in vivo levels
Gothenburg, Sweden, 18 March 2015:
Denator AB announced today that the company's heat-stabilization system has been demonstrated to preserve lipids at close-to-in vivo-levels. To preserve lipids in a reliable manner prior to mass spectrometry-based analysis is pivotal to accurately quantify and identify potential biomarkers and perform disease research. Read more
Denator expands Asian distributor network
Gothenburg, Sweden, 21 January 2015:
Denator AB announced today that the company has appointed ASPEC Technologies Limited and D.I Biotech Ltd. as new distributors of its Stabilizor™ system in selected Asian markets. Under the terms of the agreements, ASPEC and DI Biotech will market, sell and provide support for Denator's range of sample preservation products. ASPEC will cover the geographical markets of China, Hong Kong, Taiwan and Macau and DI Biotech will cover the Korean market.
Denator's proprietary heat-stabilization technology is an additive-free preservation technology for biological samples which stops degradation and changes immediately and permanently. This ensures a stable sample from the moment of excision until the point of analysis which increases the accuracy and quality of analytical results.
Karsten Fjärstedt, VP Global Marketing and Sales at Denator, comments: "We are very happy to have such well-respected distributors as ASPEC and DI Biotech representing our products. This expansion of our distributor network will strengthen our presence in the important Asian market. During the spring, Denator will, together with our new partners, conduct a sales tour and attend selected conferences in the region to drive the adoption of our heat-stabilization technology."
By using heat-stabilization, scientists have been able to drastically improve the consistency of sample quality and discover new, biologically-relevant information without needing to use additives like inhibitors. This is of particular significance to research areas such as neuroscience, oncology and proteomic research, where short-lived molecules and potential biomarkers need to be confidently identified in order to understand disease mechanisms and identify potential drug targets or disease markers. Users typically include pharmaceutical companies, academic labs, clinical research facilities and biobanks.
Denator participates and brings home ISBER 5K fun run trophy
Orlando FL, USA, 22 May 2014.
Representatives from Denator's marketing team participated in the annual meeting road race to support and sponsor the ISBER Global Expansion Fund Travel Award finishing first overall and second in women's class. The Travel Award provides support to individuals from emerging countries, who are planning or currently managing a repository, to attend the ISBER Annual Meeting.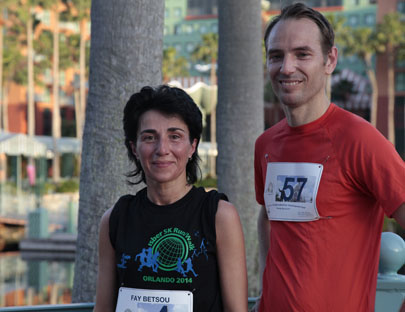 ISBER president Fay Betsou and Denator's Marcus Soderquist at the podium collecting their trophies.
Denator strengthens commercial management - Appoints new Vice President for Global Sales and Marketing
Gothenburg, Sweden , 15 October 2013.
Denator AB confirmed today the expansion of the company's management team through the appointment of Karsten Fjärstedt as Vice President for Global Sales and Marketing. In his role as vice president, Karsten will provide strategic vision and direction for all sales and marketing activities. Karsten has over 24 years of experience from the biotech and pharmaceutical industry and is joining from GE Healthcare Life Sciences where he has held senior executive management positions over the past 10 years. I am very excited to join Denator", Karsten comments, "The company has a unique technology which I think has a great potential of expanding into many different market segments. By strengthening our strategic marketing efforts, we expect to increase the pace of introducing the technology to the wider market place. Olof Sköld, CEO at Denator, states: "I am very pleased to announce the appointment of Karsten as VP for Global sales and marketing. With his extensive experience and track record he will significantly strengthen our company."


Golden rules on proteomic sample treatment published as Expert tips article in GEN
Gothenburg, Sweden , 20 August 2013.
Denator's Head of Development Mats Borén shares his experiences on sample prep for successful proteomic analyses and sums up the 11 most important points in an Expert tips article.
GEN tutorial describes the use of heat stabilization to improve mass spectrometry imaging
Gothenburg, Sweden , 8 July 2013.
Denator's Stabilizor system and its use in combination with mass spectrometry imaging was recently described in a tutorial in GEN. In the tutorial "Improving Molecular Distribution analysis", Denator's Head of Development Mats Borén describes the use of the Stabilizor technology in combination with mass spectrometry imaging in case studies covering improved detection of endogenous peptides, preservation of nucleotides, and small molecules.
Online Publication from GEN:
http://www.genengnews.com/gen-articles/improving-molecular-distribution-analysis/4923/


Denator validates compatibility with MALDI imaging analysis to assist in detection of metabolites and endogenous peptides
Gothenburg, Sweden , 27 March 2013.
Denator AB announced today that the company's heat-stabilization system has been demonstrated to be compatible with MALDI imaging analysis. The preservation of sample components prior to MALDI imaging analysis is crucial to accurately measure the distribution and abundance of biological molecules in organs. During downstream analysis, the presence of metabolites, drug compounds and endogenous peptides, existing at very low levels in the tissue sample, is often difficult to detect due to rapid degradation of the molecule of interest or masking by protein fragments generated from normal degradation processes. Utilization of Denator's Stabilizor™ system, based on the company's heat-stabilization technology, has been shown to stop degradation from the moment of sampling. This leads to increased accuracy and quality of analytical results.
This news will be of particular interest to researchers within pharmaceutical research looking at mapping molecules in situ on tissue sections. A recently published paper demonstrated an increased recovery of metabolites from tissue samples when utilizing heat stabilization followed by an optimal protocol for MALDI imaging analysis (Conductive carbon tape used for support and mounting of both whole animal and fragile heat-treated tissue sections for MALDI MS imaging and quantification, Goodwin et al., Journal of Proteomics, 2012). Olof Sköld, CEO at Denator, says: "MALDI imaging is a very promising tool for biomarker characterization and localization in drug development. By working closely with users of our system, we have now proven the compatibility between our Stabilizor system and this analytical method. There is no other known method on the market today that can ensure stability of biological components in tissue samples prior to MALDI imaging analysis. We see this development as a natural step to ensure that researchers who heat-stabilize tissues upstream achieve the best possible analytical results downstream." Implementation of the Stabilizor solution in laboratory workflows is reflected in a growing number of peer-reviewed publications. Scientists are able to perform many analyses without risk of sample degradation, confident that their results truly reflect the in vivo situation.
Denator's Stabilizor system described in tutorial in GEN
Gothenburg, Sweden , 1 February 2013.
Denator's proprietary Stabilizor system was recently described in a tutorial in GEN. In the tutorial "Eliminating biological change after excision", senior scientist Marcus Söderquist describes the Stabilizor technology including case studies covering preservation of phosphorylation states and detection of more, novel endogenous peptides.
Online Publication from GEN:
http://www.genengnews.com/gen-articles/eliminating-biological-change-after-excision/4687/