Stabilizor Peptide Extraction Kit
Maximize recovery from tissue samples prior to LC-MS
Used together with the Stabilizor™ system, the Stabilizor™ Peptide Extraction Kit facilitates differentiation and identification of endogenous peptides from degradative peptide fragments. The kit contains all necessary accessories and solutions to homogenize and extract endogenous peptides prior to LC-MS. A fully tested protocol aims to maximize recovery.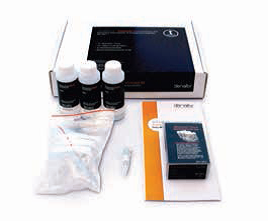 Optimize recovery of water-soluble endogenous peptides
Follow a ready to use, validated protocol - no need for optimization
Produce high quality samples for consistent LC-MS analysis
Reduce time to results
Use standard laboratory equipment
Product specifications:
12 x Maintainor® Tissue cards
12 x Spin filters, 10kDa cut-off
Stabilization and extraction protocol
3 x 45 ml Extraction fluid
12 x tubes
Storage life: 12 months from production date
Storage: room temperature
Product information sheet, Stabilizor Peptide Extraction Kit
Ordering information
| | | |
| --- | --- | --- |
| Product name | Content / Description | Product number |
| Stabilizor™ Peptide Extraction Kit (Tissue) | Validated protocol for heat stabilization of tissue samples, sample preparation and recovery of water soluble endogenous peptides prior to LC-MS. Includes Maintainor Tissue cards (12), extraction fluid bottles (3x45mL), spin filters 10kDa (12), tubes (24) and user manual (1). Contains material for heat stabilizing 12 tissue samples. | DKT 0001 |
Limitations on use: The Stabilizor system and its consumables are sold for research use only.