Maintainor storage box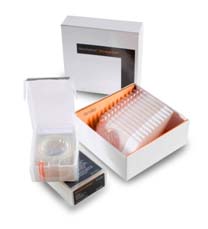 Maintainor® cryo storage box is specially designed to hold up to 12 Maintainor Tissue cards. Each card slit is numbered and holds the card in upright easy access position. The snug fit lid has a practical label for notes. Surfaces box and lid are protected with moisture repellent coating.
Product specifications
Dimensions: 133x133x50 mm (fits standard cryo racks)
Store at room temperature down to -80°C
Ordered in stacks of 5

Ordering information
| | | |
| --- | --- | --- |
| Product name | Content / Description | Product number |
| Maintainor® Storage Box | Holds up to 12 Maintainor Tissue cards in upright position. The storage box fits standard cryo racks (box dimensions 133x133x50 mm). Order in stack of five (5). | DMT 0007 |
Limitations on use: The Stabilizor system and its consumables are sold for research use only.